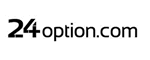 24Option is one of the few binary options brokers on the web that are already regulated. While this alone is a great reason to consider 24Option as your next binary options broker, there are other compelling reasons as well, including 24Option's many trading resources. While the resources are still rather basic, they are far more extensive than those hosted at many of their competitors. The average binary options broker seems to only offer up a brief page discussing what binary options trading is—if you don't know that by now, you probably shouldn't be investing. 24Option offers a lot more.
www.24option.com – Official Website
Regulated & Legit
One of the largest binary brokers online
Bonuses available for new depositors
Demo account is available
*USA visitors should consider TradeRush as 24Option stopped accepting US traders in January of 2013.
Learning How To Trade Binary Options at 24Option


The typical resources are available at 24Option as well as a bit more in the Education Center. You'll find the page discussing what binary options are, along with a page on binary options trading, a FAQ, and a glossary. These pages will familiarize you with the basics of binary options trading. Once you've done that, you can check out the resources in the Education Center.
24Option offers a free trading eBook that can help you learn how to use the 24Option platform and orient you with the registration process and terms and conditions. You'll learn about different types of binary options and how to choose an option. Twice a week there is a free webinar which you can watch to receive expert tips.
Free videos at 24Option are another great way to learn more about binary options. There are hours of videos on the site that introduce you to money management, market analysis, and trading psychology—all critical areas to address before you start trading, and matters that are left pretty much neglected by most brokers in their resources sections. It says something positive about 24Option that they are eager to introduce traders to these topics.
What it tells you is that this broker is trying to cater to traders who might become serious and investors, and not just gamblers who are looking to make a quick buck by chance.
This is ultimately a sign of trustworthiness. You want a broker who is willing to forge a long-term professional relationship with you.
While these resources form a great starting platform for your education, it's just the beginning. After you've learned these basics you're going to need to start learning about trading methods and developing one of your own (or adopting one for your own use).
Testing is another important step to take before you go live. And don't forget that education in binary options trading is ongoing, even after you start to trade. The markets are always changing, and it's the adaptive trader who can go on to long term success.